Cross-channel POV: Google and Facebook's funnel stages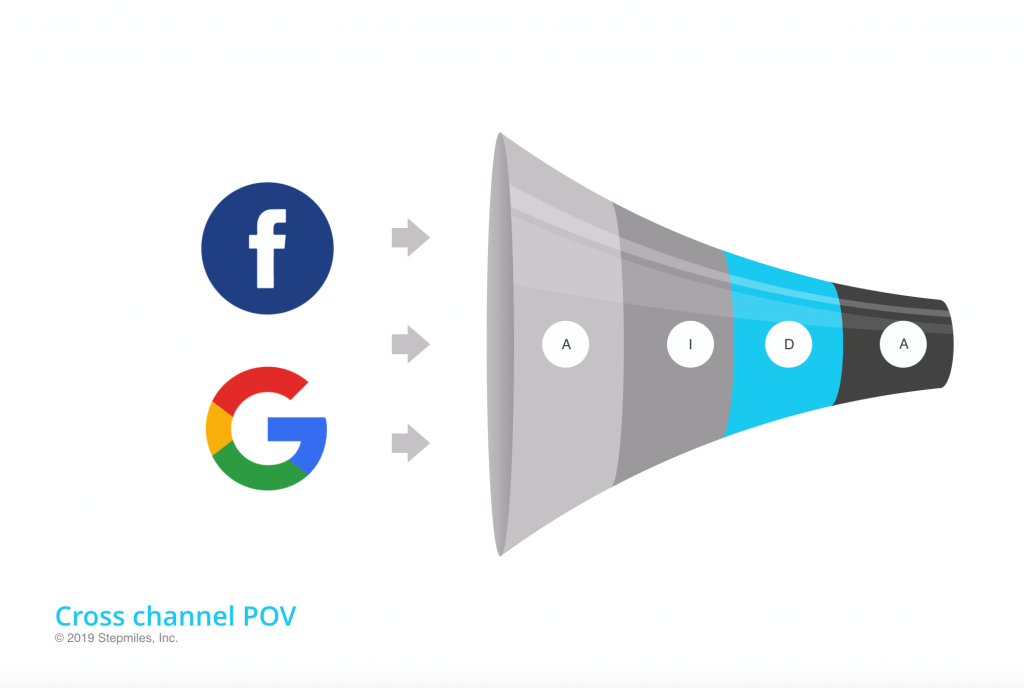 Stepmiles has been taking a holistic approach to channel performance optimization since 2004. Today, this strategy is no longer a novelty but a necessity. To maximize their advertising ROI from Google and Facebook, businesses must take a unified, cross-channel approach to their campaign performance.
Originally, Facebook has been considered primarily a top of the funnel driver, while Google – bottom of the funnel one. Today, both channels target all stages of the conversion funnel and not only complement but make each other more potent. We'll address the differences, strengths and unique opportunities for each channel in the our "Cross-channel POV" series.
Let's begin by highlighting the available options on both channels.
Google and Facebook, both offer ad formats for new and current customers, covering the top and bottom funnel conversion types. For example, Facebook address new customers' awareness, consideration and conversion goals through the following options:
Reach and frequency, lookalike audiences, video ads (Awareness)
Website traffic, lead ads, mobile app installs (Consideration)
Website conversion, dynamic ads, store visits (Conversion)
When it comes to top funnel goals, Google's targeting and specific ads formats options for new customers include:
Unbranded search, GDN, YouTube's TrueView (Awareness)
Call only ads, app promo ads, video ads (Consideration)
Branded search ads, shopping ads, local inventory ads (Conversion)
Achieving top of the funnel goals requires a unified, smartly engineered combination of cross-channel advertising and targeting. When it comes to conversions, it typically takes several touches with a brand before a new or existing customer takes an action.
Combining Google's and Facebook's ad and targeting options into integrated campaigns has dramatically increased conversions for most clients in diverse industries. In one use case, a Google search for non-brand terms triggers a paid search ad, the user reads customer reviews, researches pricing and product information but no conversion is triggered. Next, a Facebook remarketing ad pulls the user back into the funnel, she shares the advertised content, discusses it with her friends and returns to Google with a branded search and this time converts.
As we follow users through their digital journeys, we observe how an interaction with one channel (i.e. Facebook video ad view) is influenced by another channel (i.e. Google's search intent). The key is to leverage that search intent cross-channel and serve the most relevant advertising (i.e. on Facebook) for the product the user originally searched for (i.e. on Google). Such dynamically generated audiences on Facebook drive conversions based on the initial Google search and click. The real value of cross-channel advertising lay in these improved possibilities to dive incremental revenue and conversions from the entire customer journey.
Sources:
Stepmiles insights, database and clients' success